A Cinematic Photoshoot is a craft of making a wedding film or other films get that cinematic look and feel. It is the way in which a story, script, camera properties, and lighting is used. The post-production adds the final look and feel of a cinema. This cannot be easily achieved. Cinematic Photoshoots and Photography with Details require a great deal of technical knowledge, experience, creativity, and technical expertise.
Movies have always inspired people. Movies have an awe-inspiring feel that is very complex to understand, yet it leaves a mark in your mind without telling the secret in words. Cinema can evoke an emotional experience that immerses you in the story and identify with the emotion of the characters on screen. This style of engaging and immersing the viewer is the art of Cinematic Photoshoots and Photography with Details.
The secret to success in any art or craft is understanding your tools. The camera is one such tool. Cameras come in different forms, sizes, and shapes, but hardly anyone understands them in detail. This knowledge is the difference between a person who takes a photo, a photographer, and an artist. This artist is a professional photographer. The features of modern digital cameras are endless, and a thorough understanding of them alone ensures that you exploit the tool to your advantage. The first thing is to learn everything about the camera and its full potential.
Even more important than the camera you choose is the lens. The lens makes the camera, the photograph and the cinema you experience in theaters, at home or even on your hand-held devices. It is another huge area where you can find names like prime lenses, anamorphic lenses, zoom lenses, telephoto lenses, and so on. Part of the technical aspects of the lenses are numbers like focal lengths, depth of field etc. Good lenses are very expensive, but are worth the price. But before that, one has to understand the detail behind the names, properties, and their significance in photography. Quality time spent learning about the basics of lenses is important and it will help you in your career as a professional photographer. 
Apart from this, the next thing to understand in detail is Light. This is a very complex aspect, and a great deal of knowledge alone cannot help you as the quality of the light, and the situation keeps changing and, there are not many constants to apply a mathematical rule. It is as creative an area as it gets. Only learning, observation, understanding, and experience can make one an expert in the dynamics of light and lighting. An important area that is often neglected, or not understood properly is the quality of natural light itself. Different seasons, times, and conditions give a completely different look and feel to your shots. It is easy to ignore natural light and rely on artificial light. This could lead to the complete destruction of the image many times. So, understand natural light, its qualities, and nature before you even take your first shot.
From the first cinema to the present-day movies, every movie has something to teach, learn, understand, and appreciate or reject. A lot of time in watching these films and learning each and every aspect of them is crucial to successful Cinematic Photoshoots and Photography with Details. The classic look, the period look, the action look, the romantic look, and the contemporary look. Often effective creation of films is a combination of these styles. More important is the ability to make a decision on what to use and what to avoid for which film. This, is a secret that cannot be taught but has to be absorbed over time.


A study of the works of masters of photography and cinematography, their experiences, advice, and secrets will be a great starting point to getting into the art of Cinematic Photoshoots and Photography with Details. Right from a long list of great photographers like Ansel Adams, Heather Angel, Annie Leibovitz, and more, reading about them in their books and spending time studying their photographs gives you the basic knowledge required to start off.
Composition is another complicated and widely debated subject among even the most established photographers. What works for one may not work for another. Nevertheless, knowledge of the basic rules of composition is essential to decide what to accept, what to alter and what not to follow. Different subjects, situations, moods, lights, and emotions play a critical role in deciding the composition of your picture. You can always crop later, but the finest photographers compose perfectly while shooting and prefer to do very less cropping later during post-production.
Your camera offers you options in the quality of the image. Shooting in RAW, Jpeg, or both combined and maybe more. Shooting in RAW is the standard option for professionals familiar with post-processing RAW images. The difference between RAW and Jpeg is simple. RAW records all the information available on the scene without committing them to the image immediately. Jpeg commits the information that is seen. RAW images can be tweaked, details controlled, highlights and shadows brought up or taken down, and a host of other possibilities. With Jpeg, what you shoot is what you get and not much can be done later. Technically these are Log and Linear files, respectively. In short, RAW format could be compared to film negatives. 
Learning the basics, and if possible, the in-depth Post Processing processes are going to be very useful for a good photographer. Whatever you shoot can look completely different and even terrible if the same is done by another person. It includes RAW image processing, editing, sound, and color grading.
This brings us to the key word in today's cinema, Color Grading. Your RAW image, as explained before, has a lot of potentials and retains inside it the information you saw and envisioned as a photographer while shooting. Different moods, situations, times, and periodicity of the story and everything else is crucial in depicting. It is where color grading plays a critical role. Usually, this is done by a professional colourist as it is a techno-creative process. The Wedding Photographer collaborates with the colourist in getting the job done, the right way.
Finally, the major difference between Wedding Videography and Cinematography is quite simple. The former is a record of the events, and the latter is the foundation for a story to be told. Wedding cinematography is an art form blended with creative storytelling. It is like filling a blank canvas with various hues from the moments encountered. Cinematic Photoshoots and Photography with Details have to capture the glorious moments from various creative angles and give them a certain perspective that can twang the strings of the brains and hearts of people viewing it. It could be capturing an emotional father-daughter moment, or the beautiful bride-groom glances or sharing a smile.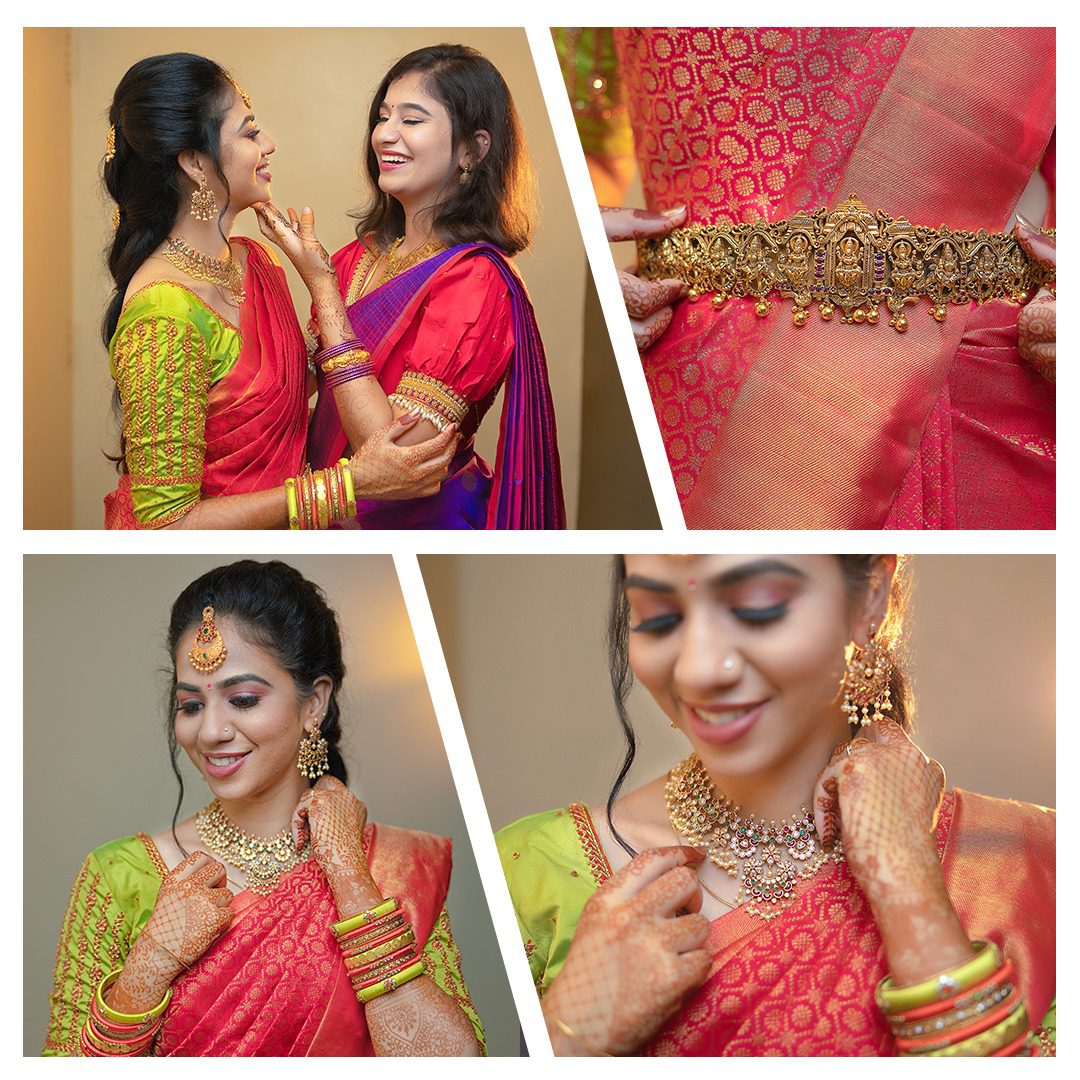 Here are Some Tips for Cinematic Photoshoots and Photography with Details
Storyboard:
The importance of a properly written story and creating a Storyboard out of it cannot be over-emphasized as it is one of the most neglected yet crucial aspects of filmmaking. This is all the more important if your film is a narrative. The storyboard should be shared and discussed with the crew members beforehand.
Depth of field:
There are very few things that are as depictive of a cinematic approach as a shallow depth of field. This means your subject is in focus and the background is not in perfect focus drawing the viewers' eyes to what you want them to see. Compare this with a mobile shot where the entire frame would be in-focus, and you will understand better.
Zooming:
Too much zooming in and out just because you have a zoom lens is not advisable. It might work for sports, but if you watch modern cinema, you will notice there is very little zooming. Instead, one option is to use a dolly that will move the camera in and out or around the subject keeping the focal length constant and the subject in focus.
High Dynamic Range:
This is the number of in-between bands between the whites and blacks of the subject. It means if your subject is brightly lit, and the background is in shadow, the detail you want in them and the in-between layers. Tricky, but modern cameras and post-processing allow you to control them beautifully to your advantage.
RAW Shooting:
As already mentioned, shooting RAW is the way to go. RAW files are the raw information straight from the scene to the card. It does not allow the camera to compress the image information like a Jpeg format. This will provide larger file sizes and require more storage space, but you will have greater control over the image, dynamic range, and color of your video when you go to the color grading stage.
Dramatic Lighting:
Learn and understand the physics and quality of light, both natural and artificial. This will help you to use them to your advantage to create dramatic lighting effects that surprise, stir and stun your viewers.
Choice of Lens:
Most of the time it is advisable to use Prime Lenses. They are expensive to buy. Prime lenses are fixed focal length lenses, and you cannot zoom. Prime lenses provide sharper images, perform better in low light, and are capable of producing a shallower depth of field.
Color Grading:
 It can be tempting to do it yourself. Go to a professional if you want the best outputs. The reasons are simple. You, as a photographer, might have too much in your mind to work on grading. A professional colourist knows the software and tools well and has immense experience with projects of different natures.
Now go ahead and indulge yourself and see the difference in your work!